Serving Your Trophy Club TX Sprinkler Repair Needs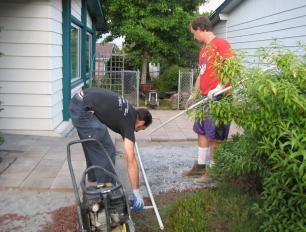 There's no denying it, you're lawn doesn't look as green as it should. There are weeds popping up and bare spots littering the edges. You need some serious help with your irrigation system. Great news! Our Grapevine warehouse is expanding our service area. We are now the newest, but most experienced, sprinkler repair company in Trophy Club.
Why trust us? We've been in the business of repairing sprinkler systems for almost 25 years. We've built long lasting relationships with many of the biggest companies in Grapevine but don't let this stop us from giving superior one-on-one service to our residential customers. Don't take our word for it. Call some of our clients and see exactly what they have to say about us.
Our Irrigation Contractors Come Fully Prepared

Irrigation systems are extremely fidgety. If one pop-up head isn't working correctly, it can affect the spray pattern and radius of every other head on the line. Replacing the head might fix the problem, but it also might cause pressure problems that require an entire system calibration. The typical handyman doesn't have the correct tools to make these pressure adjustments. We do.
Our Trophy Club sprinkler repair team offers:
Pop-up head repair and replacement
Rotor repair and replacement
Valve inspections
Drip irrigation
New system design and installation
System extensions
Supply line cleaning
Controller Adjustments
Rain sensor installation
Maintenance plans
And more…
We Cover So Much More than Just Sprinkler Repair

As we mentioned before, our Trophy Club irrigation repair team handles residential and commercial jobs of all sizes. We can do this because we have a fully stocked fleet of repair trucks on site. Every truck has a variety of sprinkler heads, valves, and other replacement parts as well as all the tools needed to replace them. Commercial trucks are fitted with high-pressure water jetting equipment and temporary sprinklers to help the landscape recover from a service more quickly.

We only use replacement parts made by sprinkler manufacturers. In the past we use parts from the home improvement store, but found they were of questionable quality and often resulted in return service in a short time. Now we only use high-quality parts to ensure your sprinkler repair will last.

Don't sit there while your landscape suffers. Call our Trophy Club sprinkler repair team right away. We'll set you up with a preliminary appointment and give you a full written report on your system. Once we repair it, you'll see an immediate difference!